Hi there,
In this article, I'll explain to you what is the best way to backup SCCM Before we are starting,
let me specify some important points,
Please DO NOT perform snapshot for SCCM Microsoft doesn't support on snapshot process as the backup of SCCM, therefore they developed a specific feature to backup your environment. In addition, you can review at the following link to make sure:
https://social.technet.microsoft.com/Forums/en-US/53c701d0-f9f4-409a-98c8-0189e556a0eb/does-microsoft-support-recovering-a-sccm-2012-site-from-a-vmware-snapshot?forum=configmanagergeneral
Personally, I know several seniors SCCM integration in ISRAEL who prefer not to come to this kind of problems with customers.
Let's go over on the steps are needed in order to schedule backup of your site
Please open the SCCM and click on Administration and then click on the Sites.
On the right top side, you need to click on the Site Maintenance button
Click on "Backup Site  Server" and then Edit button
The last step is the specify "Path" for backup  and mark the "Enable this task"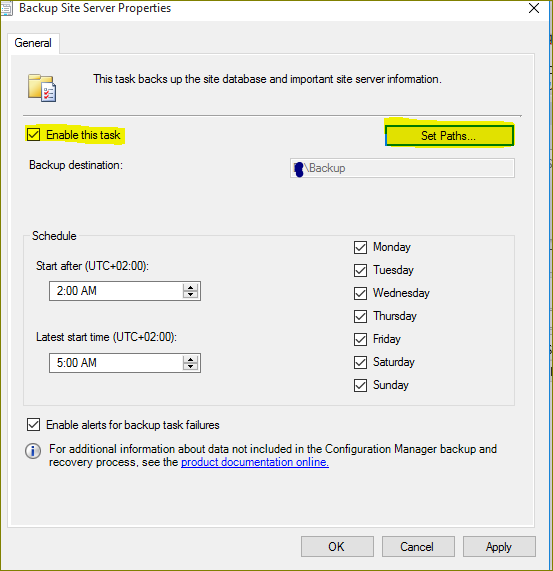 Good, now your attention? This feature is working pretty good , what probably it doe There is a service called "SMS_SITE_BACKUP" on SCCM server that will run once the backup should run (In my Screenshot, every day at 2:00 AM), if you will start the service manually you'll see that backup process is done once backup finish that service becomes too "manual" At the end of the backup process, you can open the "smsbkup" log and see the following syntax