Hey All,
Today, I would like to introduce you the VEEAM BACKUP for Office 365.
Everyone can download it and test it for 6 months as free, Veeam offers this software as full Office 365 backup software.
Veeam® Backup for Microsoft Office 365 mitigates the risk of losing access to your Exchange Online email data and ensures Availability to your users.
How does it work?
– Credit to Veeam Website:

First, Veeam Backup gathering all mailboxes data from Exchange Online using Exchange Web Service and PowerShell, then it stores the data in the repository, the data transfers using SSL.
Once you run the backup it creates "repository.adb" file which contains data of Office 365 Organization mailboxes within the hierarchical structure (mailbox folders, subfolders, and items).
You have to install two components:
Veeam Explorer for Microsoft Exchange: responsible for items restore in the way preferred by the user (saving, export, sending, or restore to Exchange Online).
Veeam Backup for Microsoft Office 365: responsible for data backup to an offline repository and for retrieving data selected for restore.
– In order to use in Restoring and Explorer feature make sure you install Office 64-bit edition.
– Ensure the following ports are open: 9191[TCP], [80, 443].
– Veeam knows backing up the mailboxes regardless Office 365 features which are available for accounts.
The installation process it's straightforward, easy, thereby with your permission I skip on installation procedure and rather show you just the imperative configurations:
Important note:
While you are downloading the "Veeam Backup for Microsoft Office 365", you may encounter an error when adding your Office 365 organization, it is a known issue which has the fix, please follow the instructions to fix this:
1. Download the patch from here: https://storage.veeam.com/Fix_113114_fbcf2c440c.zip
2. Stop "Veeam Backup for Microsoft Office 365 Service"
3. Replace Veeam.Ews.dll with the DLL from the archive in "C:\Program Files\Veeam\Backup365" (don't forget to back up the original DLL
4. Start "Veeam Backup for Microsoft Office 365 Service".
Adding my Office 365 organization to Veeam: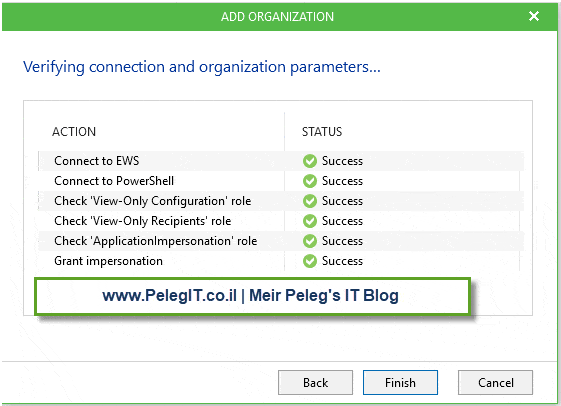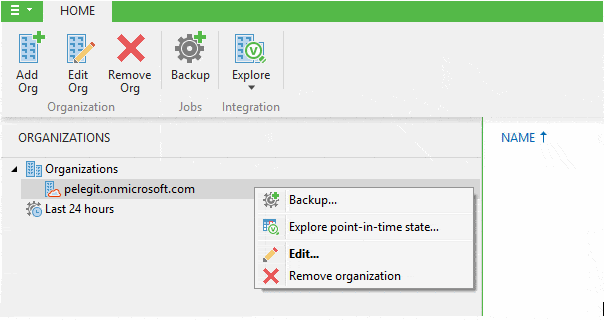 Changing default options:
Repository tab indicates the location you would like to save the "Repository.adb" file, retain backups for 3 years- by the way, you can select "Keep forever" option, however, plan your repository capacity accordingly.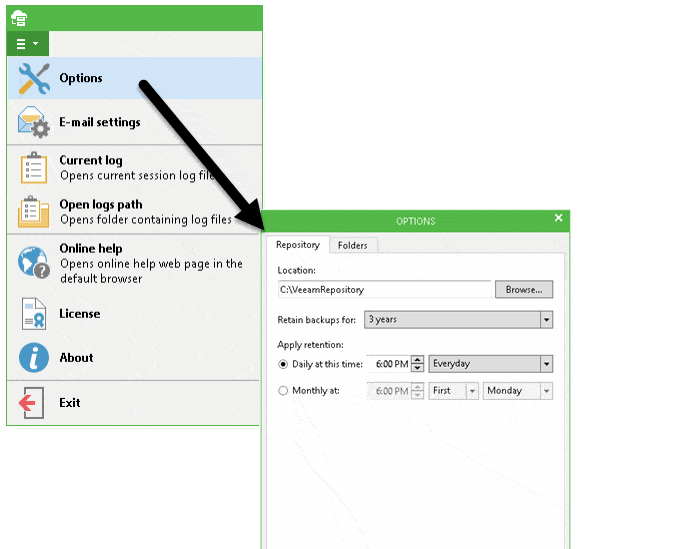 On "Folder" tab, you can exclude mailbox folders from backup:
– Do not forget guys, these settings are global, they will be applied to all jobs.
– Veeam knows to backup Share Mailboxes as well by default.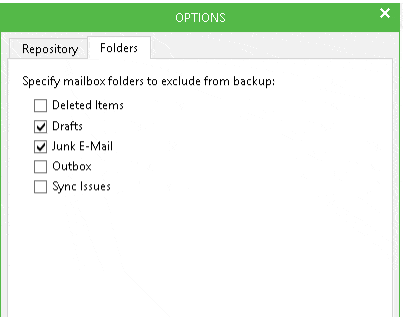 Here can we choose what do we want to back up, whether all mailboxes or particular mailboxes: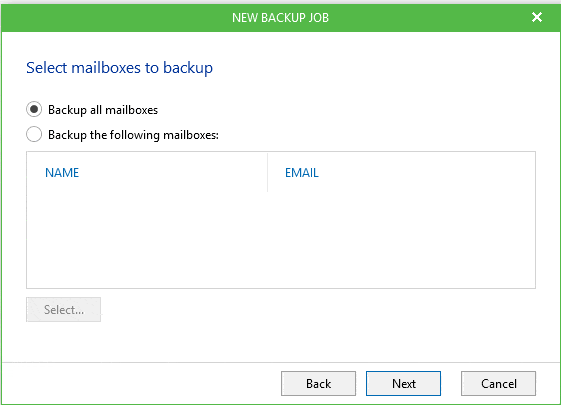 Selecting scheduling options: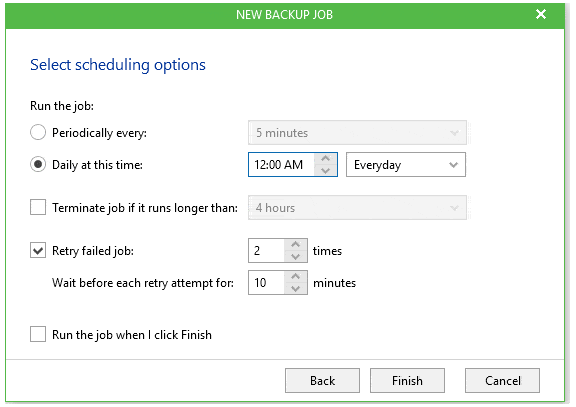 Veeam recognized all my own mailboxes: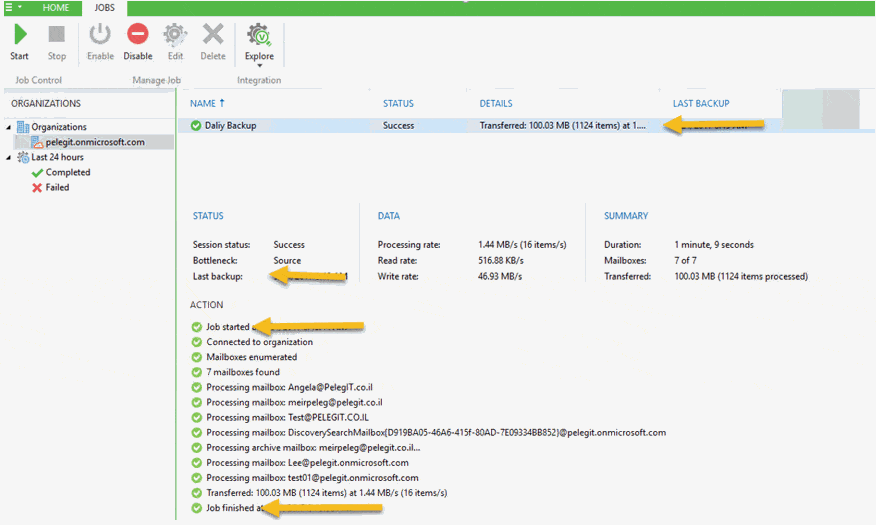 Once a backup run successfully we can find the mailbox under:
Let's open the "VEEAM Explorer for Microsoft Exchange"
Browsing into my own mailbox > Inbox, and have several options, such as Restoring, Exporting, Saving, Send to:

We can export the mailbox as PST, and even restoring to a different mailbox, or restoring to the current mailbox: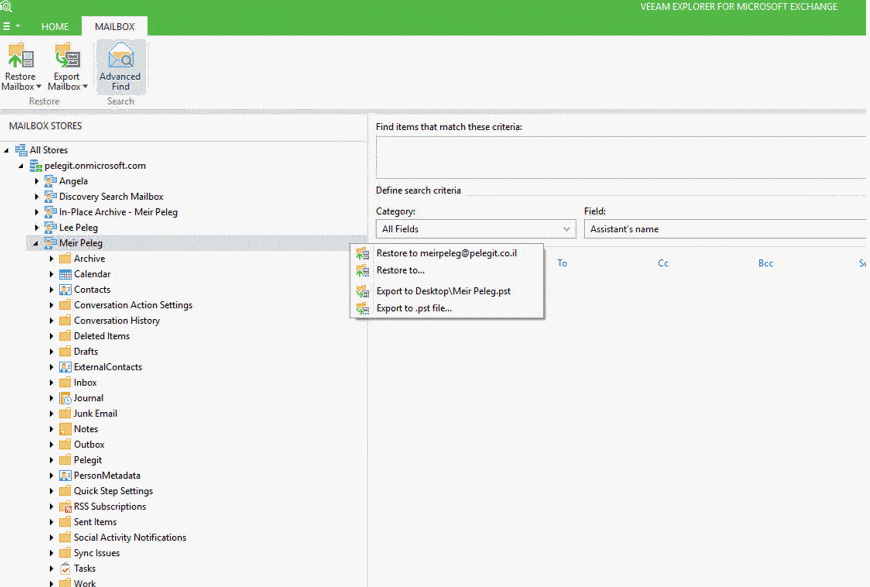 Restoring certain items as well:

Restoring whole data to the latest or point-in-time:

Oh, sorry, almost forgot, you can enable email notification, either job failed or succeed.
All right, that's all guys. Veeam is definitely a wonderful solution for backing up Office 365 mailboxes.
Download it, check it out, you have 6 months free trial, plenty time to check it:
https://www.veeam.com/backup-Microsoft-office-365.html
Good luck!