When moving away from Exchange Server to a cloud-based Office 365 platform, then there are certain challenges that you may face before or during the migration process. To be honest, migration is not an easy task, even a slight mistake may create chaos and disruption for your business, which your business cannot afford to accept. Because migration is a time-consuming activity, so it becomes even delicate to perform flawless migration of user mailboxes within the tight timelines. However, tradition methods of migration are not only risky, but involve a lot of complexity and vigilance. This is where, it invites the needs for a modern yet simplistic migration approach, such as offered by a third-party migration utility.
Kernel for Exchange Server is one of the secured conversion platforms, to produce flawless conversion of Exchange database files (EDB and STM) without getting stumbled anywhere. One of the best thing about this converter is its free software variant (demo version) that offers crystal-clear evaluation of the tool, so that you can clearly determine whether you want to go for it or not.
EXCHANGE RECOVERY FREEWARE
Interface is the very first thing that a user interacts at the time of use. The total ambiguity (if any) can be cleared in this free version. Also, the user wouldn't find any trouble as it has wide compatibility support for all machines running on Windows platforms including Windows 10 and prior versions. It accepts both corrupt as well as healthy files (EDB/STM) for data recovery and migration and offers live preview of recovered data without using MS Outlook and Exchange services.
The free evaluation version enables the facility to perform Exchange EDB to Office 365 migration, but with a restriction to save only 25 items per folder. Although, the chief objective of the free version is to offer transparency of the processes involved in data migration. Additionally, it also includes free migration of EDB (25 items/folder) to live Exchange and Outlook PST files. At the end, the demo version is pretty helpful in making the decision (to or against the purchase) upon closely analyzing the interface, functionalities and performance of the software.
LICENSED VERSION
Kernel for Exchange Server has been well categorized in three different licenses: Corporate License, Corporate License Premium and Technician License, to meet extensive needs of the users for their best-suitable results. The licensed version provides free technical support and product upgrades for lifetime, which means you will never miss anything new from the provider's end.
INSTALLATION
Installation of Kernel for Exchange Server is extremely straightforward. Simply verify the necessary criteria for the download, from the table of basic system requirements, and then set for download. The software runs exclusively on Windows workstations (including Windows Server 2012).
The installation gets completed in a few seconds.
Upon the completion, the tool automatically lands on the welcome screen, requesting you to submit the desired Exchange database files (EDB/STM). The first glance of the interface provides the overview of the neat and friendly environment.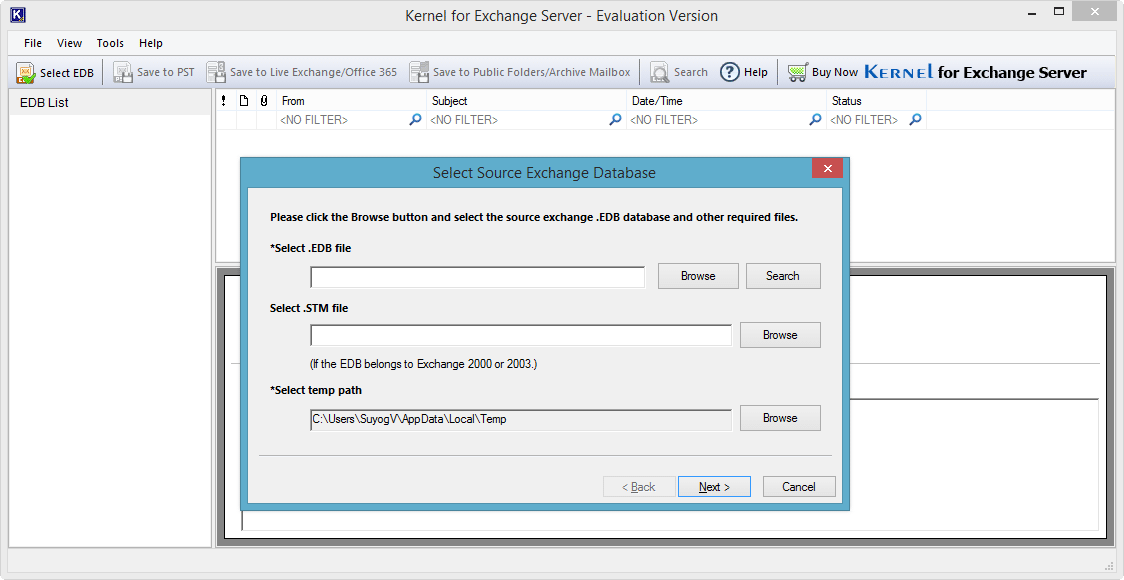 The tool enhances the user-convenience with its friendly features, such as 'search' facility to quickly scan and locate EDB files, even if the exact file path is unknown to the user.
Recovery of Unlimited Exchange user mailboxes
The software provides the smooth control for bulk EDB files recovery, without affecting the server's performance. The impressive thing about the tool is, it can smoothly add hundreds and thousands of EDB files at once, without taking days and hours for recovery. It has enhanced support to all versions of Exchange servers, including 2016 and 2013.
To recover Exchange database files, it offers two flexible approaches – standard scan and advanced scan.
Standard Scan: Recommended only for mild corruption problems in EDB files. Though, the recovery is extremely quick, but may fails to produce the end-results when the intensity of corruption is severe.
Advanced Scan: This is a life-savior mode for the Exchange database files in case of critical corruption issues in EDB/STM files. It can even recover the permanently-deleted items from user mailboxes within a single attempt. It can handle total recovery issues, which cannot be successfully retrieved using standard mode.
live Preview of mailbox items
The live preview is an exclusive feature, offered to view and verify the integrity of recovered data (e-mails, contacts, calendars, notes, journals, and attachments) without using MS Outlook platform. The preview pane is very similar to MS Outlook environment, the total data is organized in a list-like structures – containing folders and sub-folders, as appeared in your original file content. It lets you to access email with attachments, and rest of the contained items in accordance to the viewer's setting.
multiple modes of Migration: save EDB file in Office 365
Within a single utility, Kernel for Exchange Server offers the dual benefits – recovery as well as migration. It offers various platforms to save recovered EDB files: save to live Exchange Server/ Office 365, save to PST file, save to public folder/ archive mailbox. Other than this, it provides the option to convert EDB files to various messaging formats like MSG, EML, RTF, HTML and TXT files.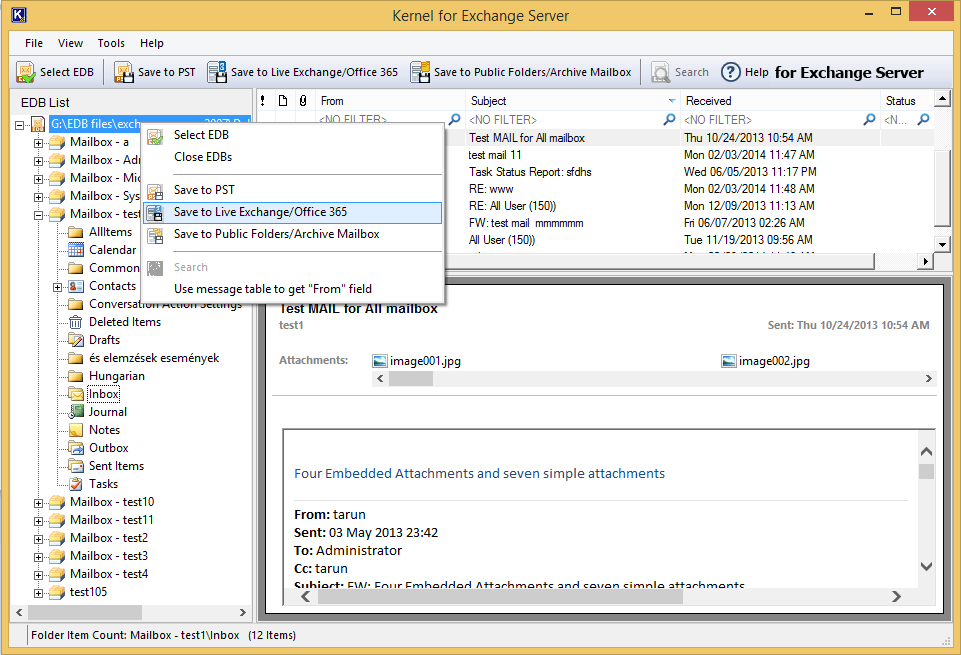 Saving EDB in Office 365 mailbox
To export recovered EDB file to Office 365, you need to have full administration privileges. Select this option 'Save to Live Exchange/Office 365' and provide the respective credentials including User Name, Password and an optional field to manually configure Outlook profile.
Searching of Specific Items
This search option allows you to look out for the specific items falling in the user-defined parameters. Items can be searched using three inbuilt sections: General, More choices, and Advanced.
Advanced Filter And Split Options
Before performing the migration, it offers the convenience to refine items based on different filters. The filter option is extremely helpful to get rid of the unwanted or unnecessary emails by defining the different criteria based on: item type, include/exclude, and date range.
The required items are precisely mapped from source mailbox to target mailbox, without compromising a bit of data integrity.
https://www.kerneldatarecovery.com/exchange-server-recovery.html
Conclusion
The utility is definitely helpful for Exchange Admins and data recovery engineers – no matter how complex is the corruption issue or the failures. The total recovery can be performed without using Exchange log files or services. Both the versions (free and paid) have lifetime validity. So, there is no harm in giving a shot for the free version. The support with latest versions of Exchange and Outlook platforms, gives strong impression that it provides seamless support with upcoming and newer technologies.