Hi,
In this guide, you are going to learn how to install Exchange 2013.
I am going to install the Exchange(All in one) all roles on one server.
---
Note :
To install Server

 Exchange

2013 make sure your Active Directory

environment is working

at a minimum of Forest Functional Level 2003.
Make sure that the server is a member of the domain.
Make sure the server is up to date.
Make sure there is communication to the DC.
Make sure that the schema master is available.
Make sure the server has Net Framework 4.5 and Windows Management Framework 3.0.
Make sure you are installing the server using the User with the permissions (recommended Administrator)


---
First we have to log in to Active Directory and make preparation for Forest and extent  schema using the two following commands:
Setup.exe /PrepareSchema /IAcceptExchangeServerLicenseTerms
Setup.exe /PrepareAD /OrganizationName:"<organization name>" /IAcceptExchangeServerLicenseTerms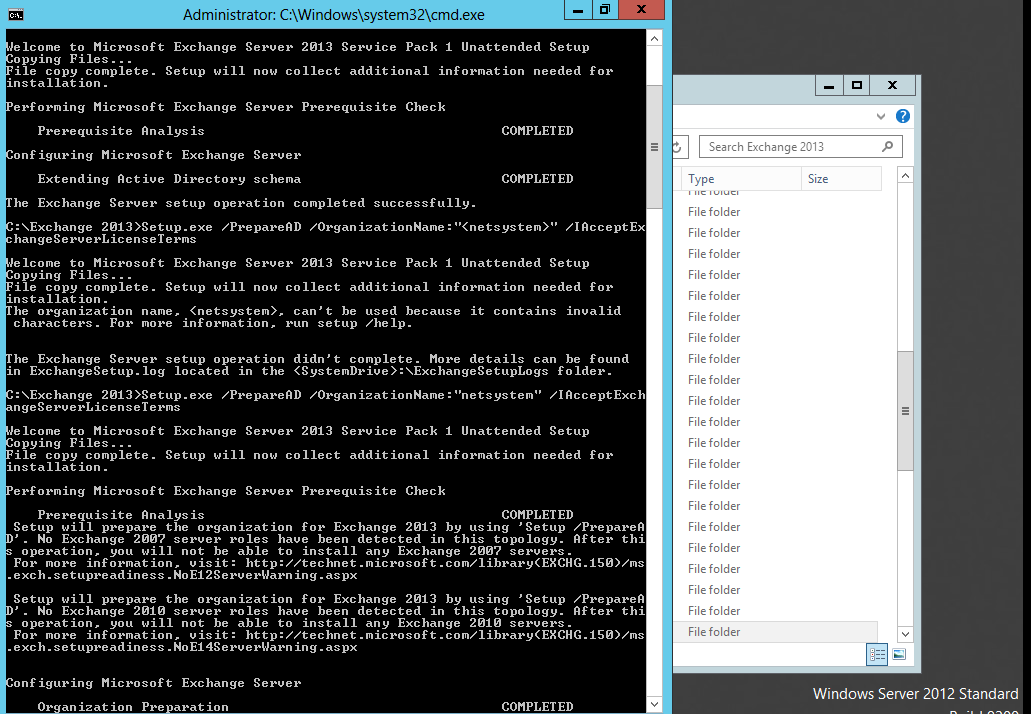 After preparation is completed

,

we have to

start with 

prerequisites

, so Open

 Powershell and run this syntax: (we can add

features

& Roles from Server manager as well)
Install-WindowsFeature AS-HTTP-Activation, Desktop-Experience, NET-Framework-45-Features, RPC-over-HTTP-proxy, RSAT-Clustering, RSAT-Clustering-CmdInterface, Web-Mgmt-Console, WAS-Process-Model, Web-Asp-Net45, Web-Basic-Auth, Web-Client-Auth, Web-Digest-Auth, Web-Dir-Browsing, Web-Dyn-Compression, Web-Http-Errors, Web-Http-Logging, Web-Http-Redirect, Web-Http-Tracing, Web-ISAPI-Ext, Web-ISAPI-Filter, Web-Lgcy-Mgmt-Console, Web-Metabase, Web-Mgmt-Console, Web-Mgmt-Service, Web-Net-Ext45, Web-Request-Monitor, Web-Server, Web-Stat-Compression, Web-Static-Content, Web-Windows-Auth, Web-WMI, Windows-Identity-Foundation
This requires performing a restart. * The next step is to install "UcmaRuntimeSetup"
Download: http://www.microsoft.com/en-us/download/details.aspx?id=34992
In addition install the "FilterPack64bit":
Download: http://www.microsoft.com/en-us/download/details.aspx?id=17062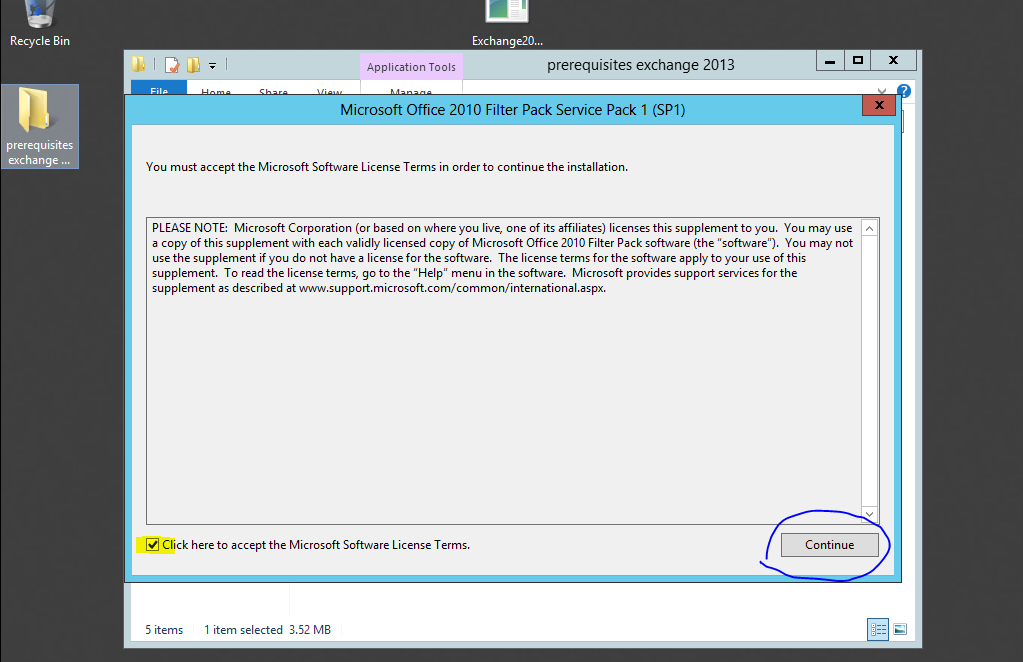 The last one is "filterpack2010sp1-kb2460041-x64-fullfile-en-us"
Download: http://www.microsoft.com/en-us/download/confirmation.aspx?id=26604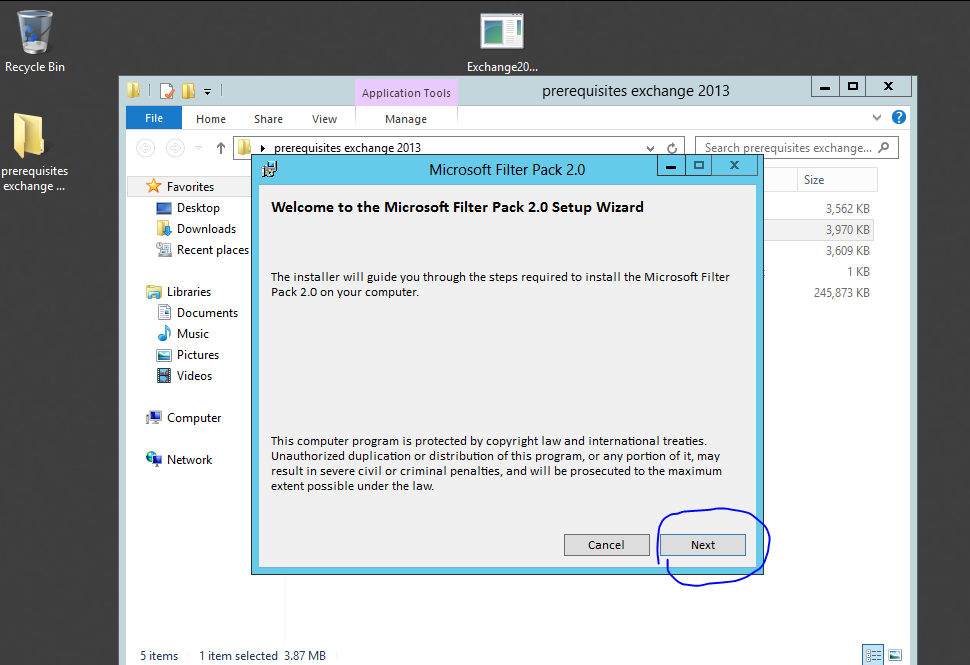 Great, now we can start with Exchange installation, so mount the ISO file and start with Check for Updates: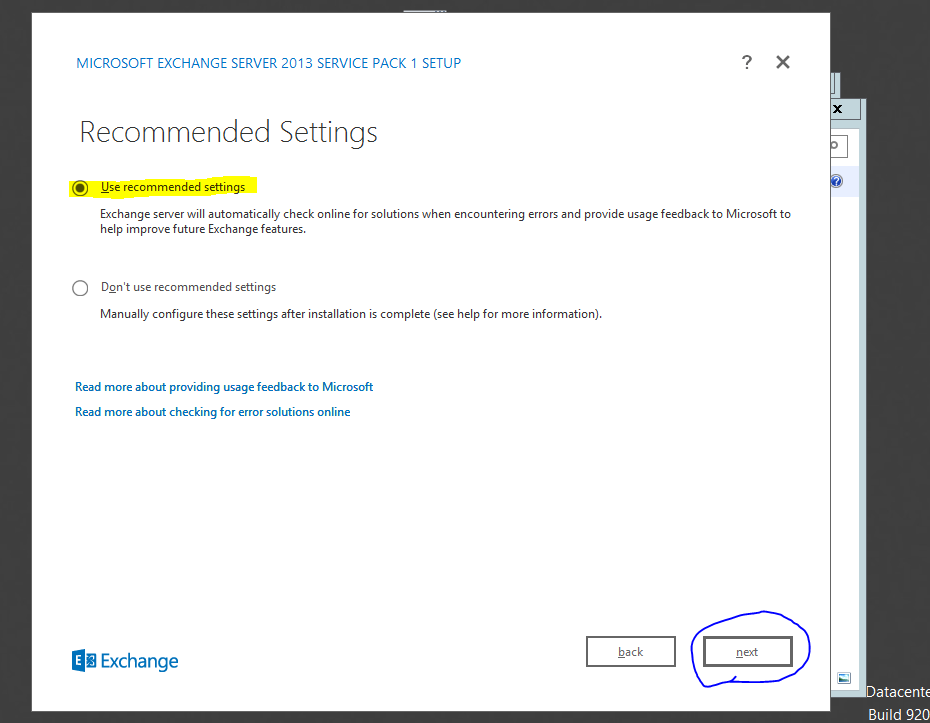 Hopefully,

you

remember

the last exchange version where we installed each role separately

,

in this version

(

2013

)

CAS and HUB are one role.
Type your Exchange Organization name: