Stellar Phoenix Mailbox Exchange Recovery tool is the ultimate solution to recover the corrupt MS Exchange Database EDB File. This tool supports database from legacy version of 5.5 to the latest version 2016 inducing databases of Exchange 2000, 2003, 2007, 2010 and 2013.
Exchange Database corruption can occur due to various reasons like disk corruption or power shutdown or virus. Database corruption is not very common, but when it occurs, we should be ready to address and take action immediately. Native Exchange database recovery tool ESEUTIL /P is a manual, tedious, complex process to recover the software. Since Native ESEUTIL is time-consuming process, administrators are forced to create a dial tone database to allow users to send and receive email. Then administrator has to mount the corrupted EDB file and then export/import the contents to users mailbox. It adds additional complexity and time to the complete process. ESEUTIL is a command line tool, and there is no native easy and straightforward graphical interface tool.
Stellar Phoenix Mailbox Exchange Recovery helps to recover the MS Exchange Database file easily, quickly and provides various options to export the content of the database to uses PST. It can also preview individual item and export the content to HTML, RTF, PDF, MSG, EML Files. This tool can be installed on any client from windows Vista to Windows 10 and also supports server operating system like Windows Server 2008 and Server 2012.
Minimum Requirement to install Software
Pentium Class Processor
Windows Operating System
 GB Memory
50 GB HDD space
MS Outlook: 2003/2007/2010/2013/2016
Below are the simple steps to work on the Stellar Phoenix Mailbox Exchange Recovery · Download the copy of the software from:
https://www.stellarinfo.com/edb-exchange-server-recovery.htm
and install on a supported Microsoft Widows OS
Default Trail version offers limited functionality. Need to register and apply the Registration Key to get all the features.
To recover the corrupted EDB file, Start Mailbox Exchange Recovery tool and use the option Select EDB to choose the file.

It allows two

option,

either to

cho

o

se Open

EDB file

from known location

or

find the all EDB file from the local computer. 
Find EDB helps to find all  EDB files in the local computer drive.
Once required EDB is selected, then it prompts to select Quick scan or Extensive Scan. Quick Scan will scan through the EDB database file much faster and recovers the corrected database. It works well for most cases and recovers the email items. An extensive scan is the detailed and time consume scan to get best results. It performs the detailed scan of the EDB database file to recover maximum contents from the database. We could also scan multiple EDB database file if there are mulitple corrupted file.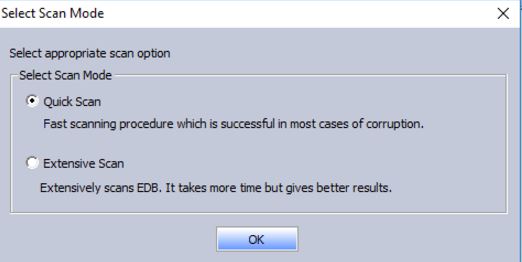 Once scanned, we could select the individual users maibox and then export to PST, MSG, EML, HTML, RTF, PDF or even it could export to Exchange Mailbox and Office 365 Mailbox.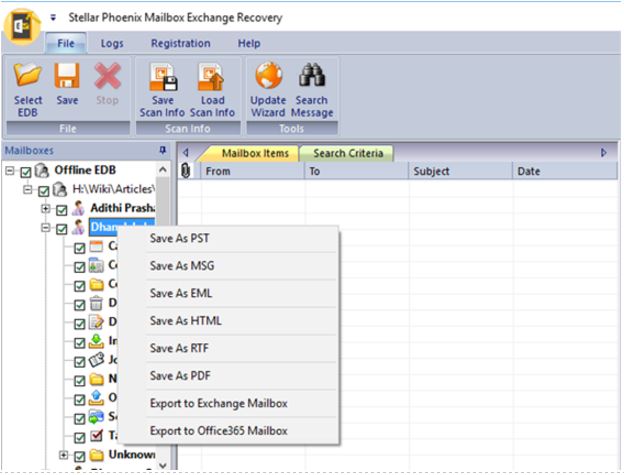 We could also preview the individual email and export the content of individual item to EML, MSG, HTML, RTF and PDF formats.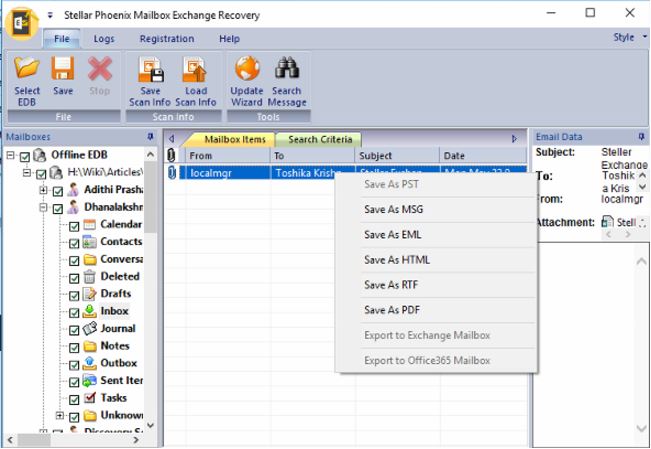 Top 3 features of Stellar Phoneix Mailbox Exchange Recovery
Exports the recovered email directly to the users live Exchange mailbox or Office 365 Mailbox.
Exports the recovered emails to the  PST or can export the individual email item in PST, MSG, EML, HTML, RTF and PDF formats.
It allows Adminstrator to search for the message item which you wanted to recover if you looking to recover individual items.
Conclusion:
I think Stellar Phoenix Mailbox Exchange Recovery is a great tool and necessary required for most of the organizations. It reduces huge amount of time and efforts of the Exchange Engineers. You can have the license transferred from machines to another when needed, and it makes flexible to move around the application as needed. I think it is worth the investment for every organization and It is a cost-effective tool. I would give 5/5 rating to this product.