I want to talk a little bit about this feature which is not quite familiar with many Office 365 customers, Microsoft has many handy features that could be wonderful for you but not declared for us while joining to Office 365 services.
Before talking about litigation hold I would like to talk and brief a bit about shared mailbox in Office 356.
Shared Mailbox is a free mailbox which should be attached to a mailbox, there is no own username and password, you can send an email from there and receive as well.
Usually, we make use of this feature when for example the HR needs the main mailbox instead of a public folder or even  FAX mailbox could be useful also.
When a user left our company, what are we doing with his mailbox?
As you already know, if you unassigned the license after 30 days the mailbox will be deleted automatically, many organizations just downloading the PST of the user and keeping the files on File Server. thus we got back to old technologies by exporting the mailbox to PST file and tangling up with PST's… Therefore it was important for me to enrich your possibilities and let you considering to convert the mailbox to shared mailbox – let me show you what do I mean
.
At the time that user left, go to his, mailbox and convert the mailbox to shared mailbox, and then remove the license from the mail, and certainly and you can do vice versa as whenever you want.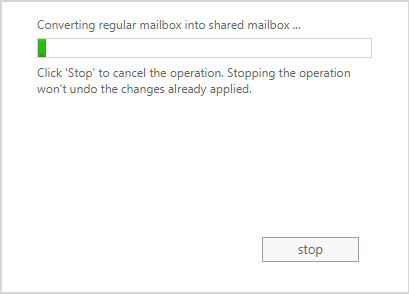 Go to shared mailboxes and you can convert it back:

Thence the mailbox stored on "Shared Mailboxes" category and available, all data preserved, you don't deal with downloads, PST, spaces, nothing… other user needs the mailbox? no problem, just assign the share mailboxes the requester.
Consider this guy.
Litigation Hold:
All right guys s, there is a feature that called "Litigation-hold" which is depending on your office 365 license, P2, E3+.
This feature allows you keeping email items even if you deleted them permanently from recoverable items, however– import note – you will be able to recover item as soon as the litigation hold enabled and initiated, it very important to understand that, don't expect to recovery items before enabling litigation hold.
Litigation hold it is not backup!
For more information:
https://technet.microsoft.com/en-us/library/dn767952(v=exchg.160).aspx
Let's see how to enable this feature and then I will present you all steps of "How recovery item from PST".
Enable Litigation hold feature per mailbox:
– Open The mailbox and go to "Mailbox features" make sure litigation hold is enabled.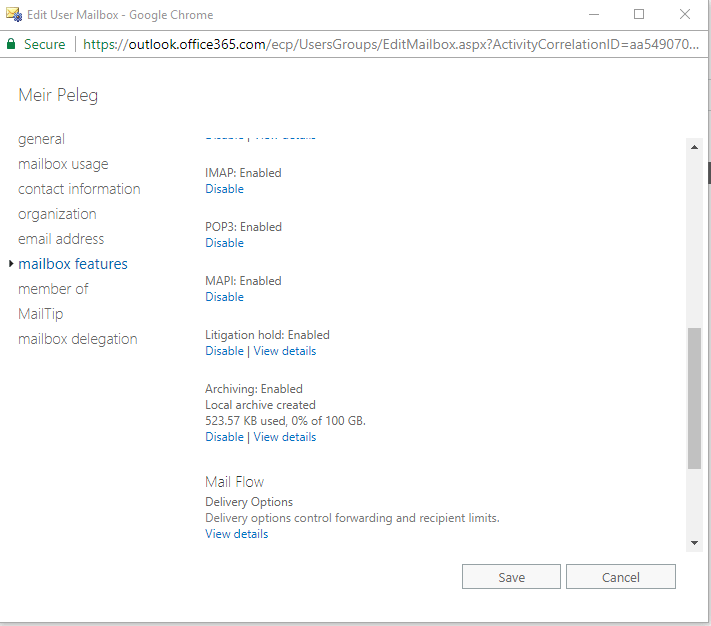 Right now I'm going to delete an email permanently:

As you know, a mail that has been deleted permanently isn't existing under "Deleted items", it goes to "Recoverable Deleted Items", I would like to delete it from there as well:
Deleted:

Let's find the mail Compliance Management > In-Place eDiscovery & Hold > +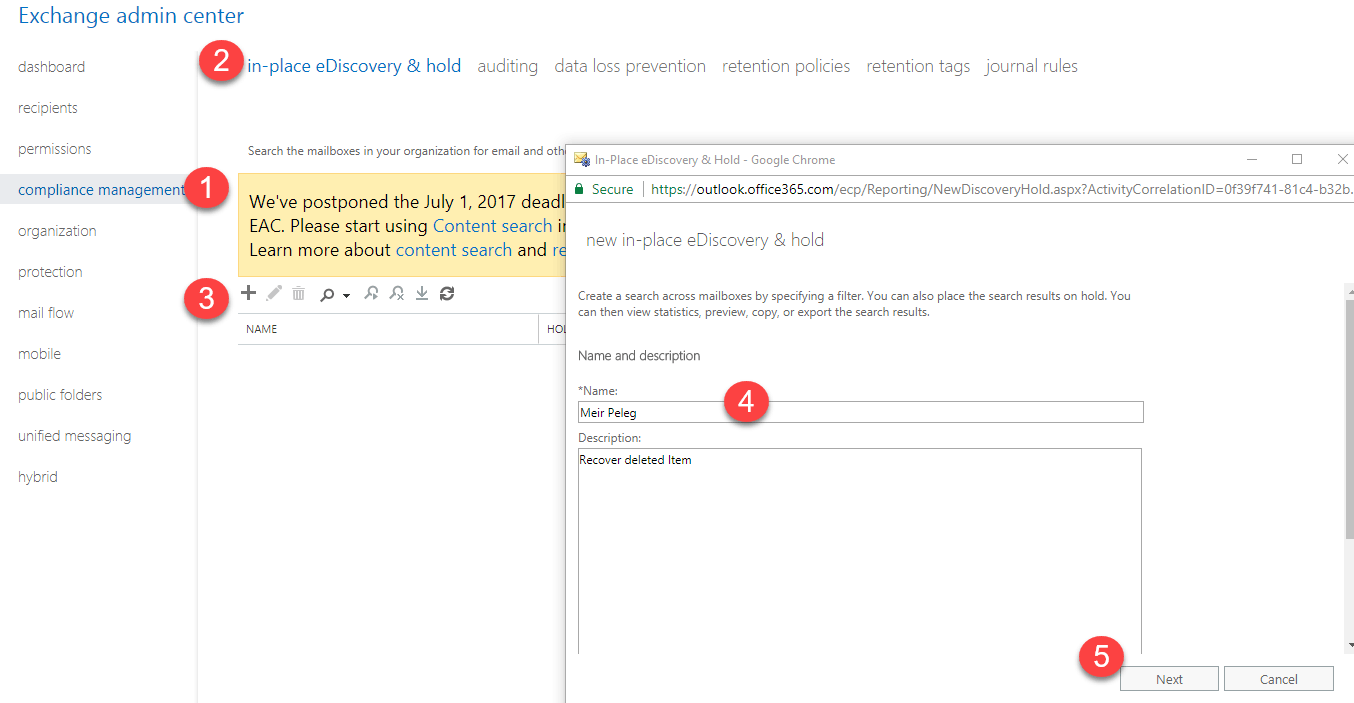 Specify what mailbox  you want to find the email: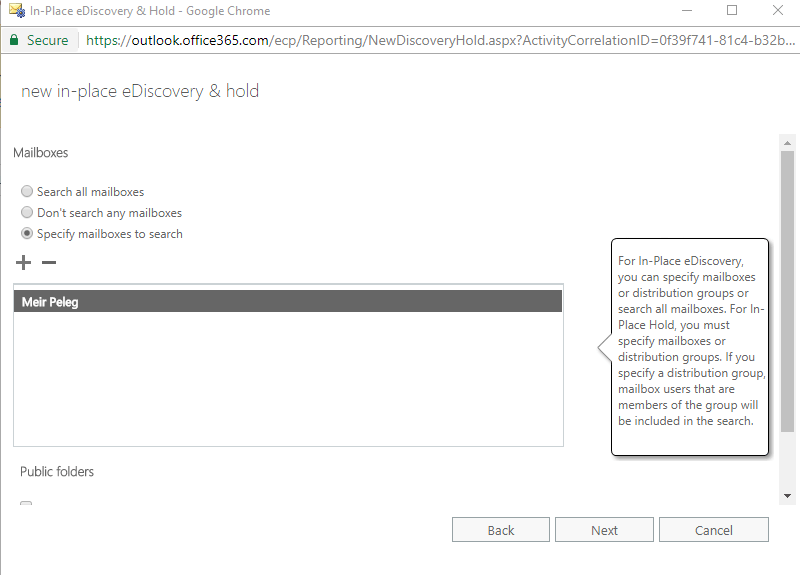 You can state period of time, specific date, keywords: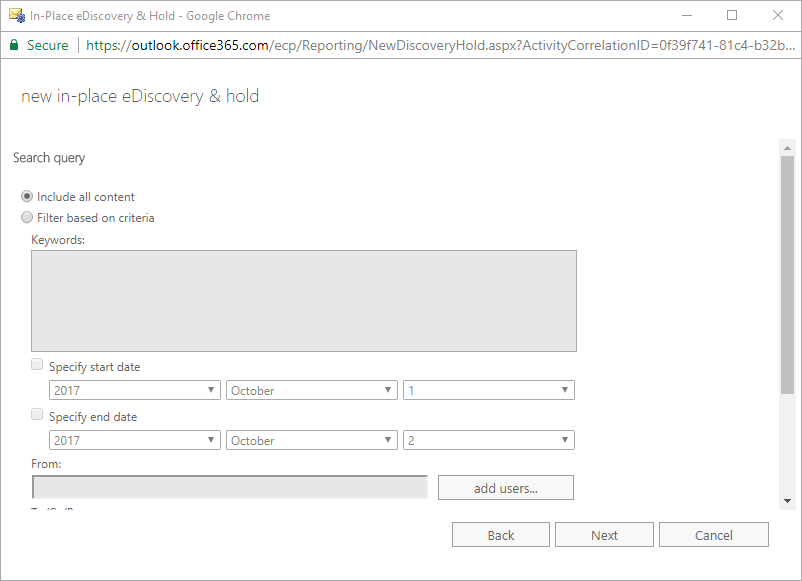 You can specify the time of hold item: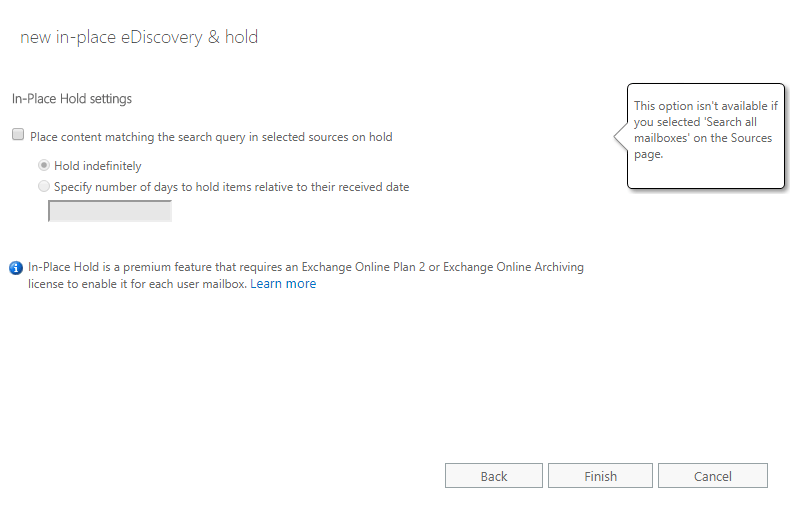 Now you have to wait until the progress will be completed, At the same time you can click on "Preview search results" and found the email:

Here you are:

Download the content to PST: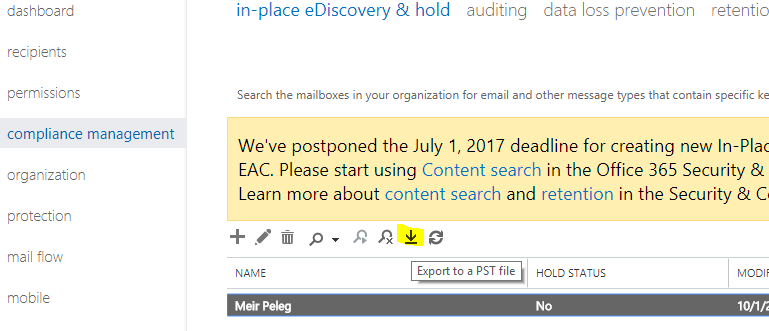 How to enable litigation hold using PowerShell:
Per a mailbox:
Set-Mailbox [email protected] -LitigationHoldEnabled $true
Get all mailboxes which have litigation hold:
Get-Mailbox -ResultSize Unlimited -Filter {RecipientTypeDetails -eq "UserMailbox"} | FL Name,LitigationHold*


Enable litigation hold to all mailboxes for 7 years
Get-Mailbox -ResultSize Unlimited -Filter {RecipientTypeDetails -eq "UserMailbox"} | Set-Mailbox -LitigationHoldEnabled $true -LitigationHoldDuration 2555