Vembu BDR Suite is a portfolio of backup products for multiple environments from virtual machines, physical machines, files, MS applications and SaaS applications. Recently, Vembu BDR Suite v4.0 (latest version) had been released and this review is aimed to give you an overview of what Vembu has to offer.
Vembu BDR Suite:
* Vembu VMBackup – Agentless backups for your VMs running on VMware or Hyper-V with backup support for Hyper-V Cluster recently launched in v4.0
* Vembu ImageBackup – A backup solution for Windows servers and workstations. You can do entire system level backup or specific volume level backup.
* Vembu NetworkBackup – On premise file & application level backup for Windows, Linux and Mac machines.
* Vembu OnlineBackup – Cloud backup for file servers & applications
* Vembu SaaSBackup – Cloud to cloud backup for mails, calendars, contacts, drive from Office365 & G-Suite.
Installing the Vembu BDR Server (the central console from which you will be performing the all the backup and recovery operations) was just three steps. Choosing the installation location, adding Windows user account and web console credentials and the database location. If you go with Default Configuration, even these steps are skipped. Being a web-app, it makes a lot of things easier as you can login to Vembu BDR from any machine by just entering the IP address of the backup server followed by ":6060".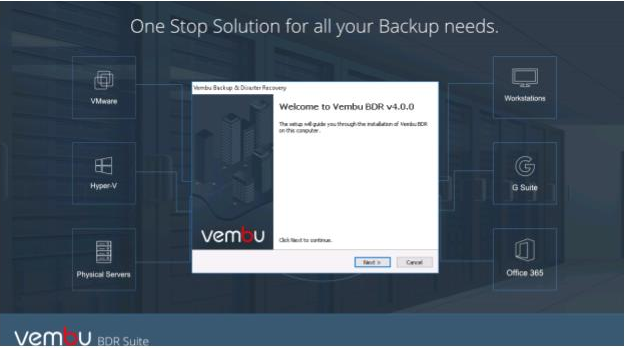 Vembu BDR Server installation
VMware and Hyper-V backups are agentless. You just have to add the host and you can backup all the VMs in that host without installing any other agent in each VM. The host that you add can be a vCenter or ESXi; or Standalone server or part of a Hyper-V Cluster. Support for Hyper-V Cluster backup is one of the major features that came with the latest version Vembu BDR v4.0.


Adding Hosts
Configuring a backup job seems to be a relatively straightforward process. You choose the machines that you want to backup, go for application-consistent backups, define a schedule when you want to run the job and finally select the number of restore points you want by creating a retention policy.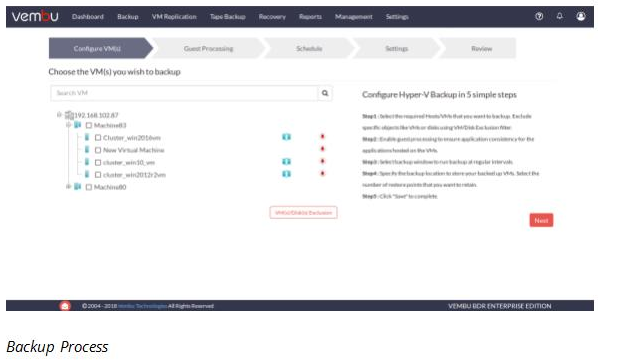 After choosing the VMs that you want to backup, you can enable Application-aware processing for consistent backups if you have MS Applications running inside these VMs. You can also truncate the transaction logs created by these application databases.
Step three will be setting up a backup schedule. You can find that you can automatically run backups from every 15 minutes (which I'm sure is used only for business-critical VMs because taking a snapshot and processing a backup every 15 minutes is going to affect the performance) or go for Daily or Weekly backups.
Initially, a full backup happens. After which, only the changes are backed up. With the growing need for multiple full backups for organizations with strict regulations, Vembu also offers an option to go for additional full backups periodically.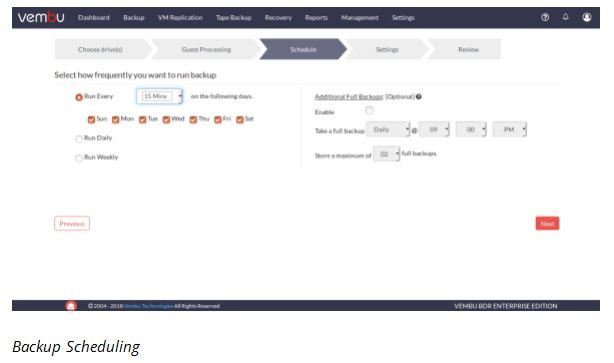 Configuring something complicated like GFS-retention for your backups spanning months is made easy with an uncluttered UI. Vembu BDR's UI is something that deserves a special mention. Designed to be clean, intuitive and simple, any user with no prior experience in handling backups solutions can configure and run backups with ease.
By making the backup and recovery configuration steps similar across all backup types (VMware, Hyper-V or Windows), you realize there exists little to no learning curve to use this product.
I ran a quick google search and found that most of the other Vembu users also had put "easy-to-use" and "straightforward" under what they like about Vembu BDR Suite. This seamless user experience is especially useful when we get to more advanced options under the Recovery tab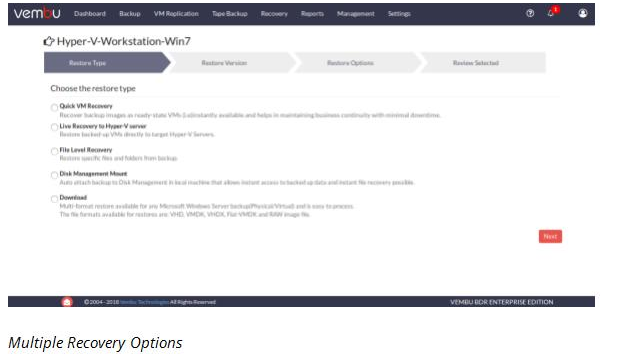 You get multiple recovery options that you can use for different scenarios. Most of the recovery options are common across VMware, Hyper-V and Windows Image Backups. There is the Quick VM Recovery that you can use to launch a new VM of your backed up machine in VMware or Hyper-V within a few minutes.
This instant recovery also offers the option to save any changes you make in the quick-booted VM so that you can restore them later when you failback operations. Apart from the standard file-level recovery option that you will use to recover the only file(s)/folder(s), Vembu also offers a free tool called Vembu Universal Explorer that makes application-item level restore possible for MS Applications like Exchange, SharePoint, SQL, etc.
Although not in a single step, you can migrate your machines (virtual or physical Windows) across platforms or hypervisors- P2V, V2V & V2P. There is a recovery option where you can download the backed up machine in any virtual file format like VHD, VMDK, etc. that makes it easy to start a new machine in any other ESXi or Hyper-V host. For Bare Metal Restore though, there is an additional step for you to create the ISO
file required for the new hardware. There is a separate free tool called Vembu Recovery CD that helps in restoring the machine in the same or new hardware (with the drivers differing across machines, Vembu does not offer BMR to dissimilar hardware).
You can also instantly access your data with another option called Disk Management Mount. It's clear from the name that they're mounting your backup data to the Disk Management service in your local machine. Without the need for restoring anything, you can instantly access your backup files from your machine.
Like everything else in the product, the recovery process is also uniform – Choose the restore version you need & configure some recovery settings (where you want to restore and how).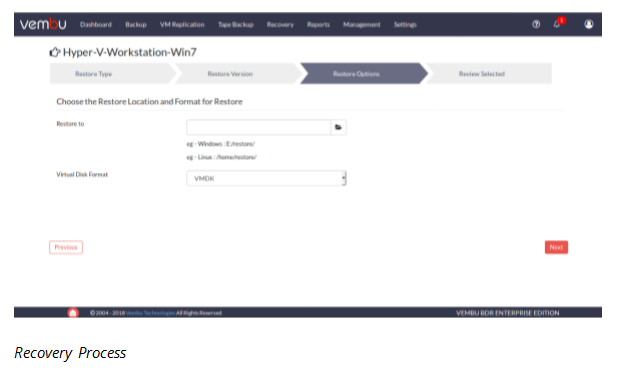 Having looked into backup & recovery, I decided to look further into the High Availability of your virtual machines that Vembu offers with VMware replication. The process of adding the host and selecting the virtual machines to be replicated to the
secondary ESXi host was exactly like configuring a backup job, except that you can add Network Mapping or Re-IP Mapping rules when the target host is in a different network.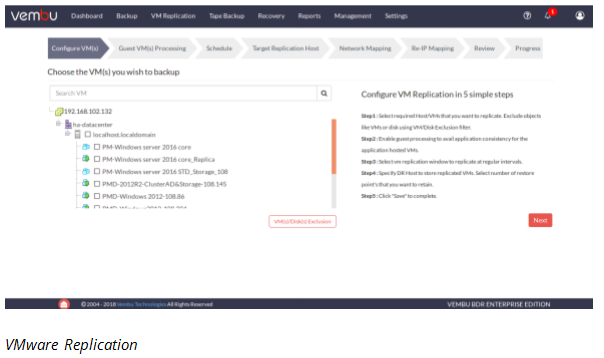 The Failover & Failback possibilities are further expanded into giving you an option to undo your changes you made in the Replica or the primary host.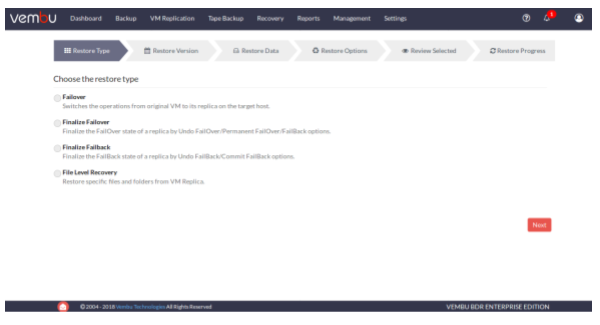 Failover & Failback
Vembu has its in-house file system called VembuHIVE which before anything else, makes scalability easier. Simply adding a new drive (physical or SAN or NAS) is enough to span the backup data from the old to the new drives. The backup data is also encrypted with AES-256 bit encryption algorithm while the storage reduction methods like compression or deduplication seem to vary across backup type. Files backups show a greater compression of upwards of 70% while some image-based backups get somewhere between 40 – 60%.
Apart from configuring backups and performing restores, you can also see the performance of the backups jobs from extensive reporting options. From the status of each backup job, to each VM, there are separate reports for everything.
There is a certain Image Integrity Report, that serves as the backup verification check. In these reports, you will be able to see the screenshot of the newly-booted VM from the backup data. By getting these reports to your inbox via email, you can stay aware of how your backups are performing.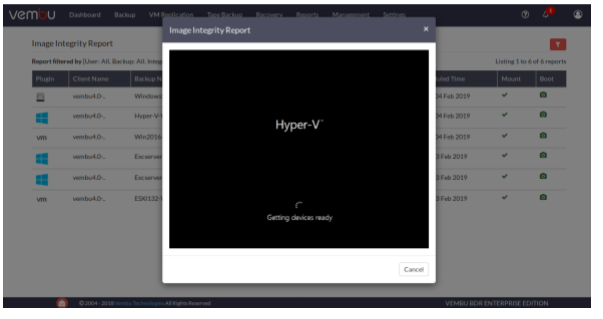 Automatic Backup Verification
All the backup data are stored in Vembu BDR Server. To tackle the scenario where the backup server may go down, Vembu gives two options: You can replicate your backup data periodically to Vembu Cloud using Vembu CloudDR or to your own datacenter located somewhere else with Vembu OffsiteD
These are the basic DR options that are provided which get the job done of recovering all the backed up data from a DR site and resume operations quickly and reduce downtime during a disaster.
Editions:
With Enterprise Edition, Vembu is targeting the medium and enterprise businesses with advanced features like GFS retention, Tape support, Persistent changes & backup verification. For the small businesses, they offer Standard Edition that has all the basic funct
that you can use. You can either use all the features for up to 3 VMs or use limited features for unlimited VMs.
Recently, they have launched a package called Vembu BDR Essentials targeting requirements up to 6 CPU sockets that comes with all the features at half the price.
From a small and medium business standpoint, Vembu BDR Suite covers all possible requirements and use cases involving backups. From virtual to physical or cloud, any current or future backup needs can be handled at affordable pricing with Vembu BDR v4.0.