Even today, the majority of business communication is email oriented. Emails convey information in a professional and formal manner. That being said, a plain email is neither visually appealing nor catches the recipient's attention. Email signatures, on the other hand, can be appropriately referred to as a digital business card that contains all the pertinent information in a clear and concise manner. Email signatures are essential because they are one of the most versatile marketing tools and are critical for promoting a brand in a sophisticated fashion.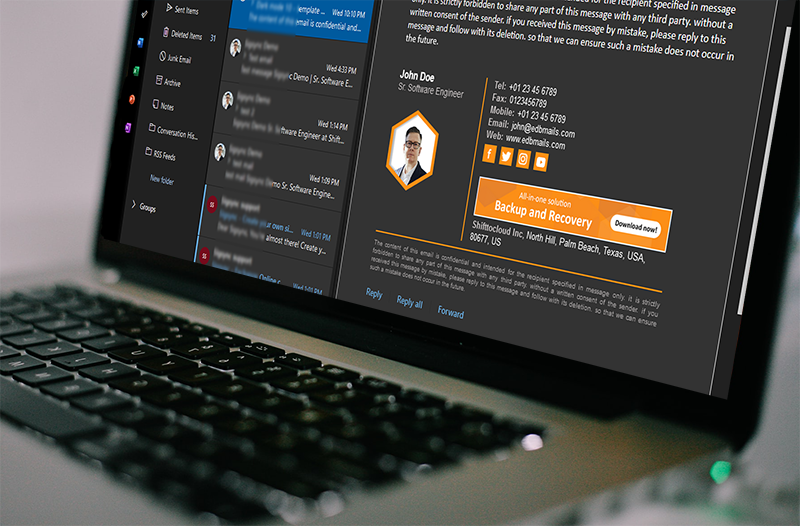 A well-designed and eye-catching email signature grabs the reader's attention and promotes the company's brand. They can also include a call to action (CTA) such as clicking of a button or giving information about attractive discounts or requesting recipients to leave feedback about a service. When it comes to cloud-based email services for business users, many organizations have migrated to Office 365 due to the numerous features and collaboration tools that are available. Users of Office 365 can add signatures natively using the Outlook Web App (OWA) or Outlook on desktop, but there are certain limitations. In this article, we'll look at some of the most common reasons why businesses use email signatures, challenges with the native Office email signature option, and how Sigsync, an Office 365 email signature software, can help you overcome the challenges and add professionally looking branded email signatures for your entire organization.
What are the benefits of using email signatures?
An email signature helps to build and promote the company's brand.
It gives your emails a professional look and appearance.
In comparison to most other expensive marketing elements, it is cost effective.
A digital business card with all of your contact information.
The addition of disclaimers is beneficial in terms of legal compliance.
Using a dynamic email signature to promote a product is far more effective and quicker than using static websites.
Encourages customer engagement and increases response rate.
Customers can be directed to specific posts, events or campaigns by using social media buttons.
Useful for internal communication or sharing company-related information within the organization.
Challenges of adding Office 365 email signatures natively using Outlook
Users of Office 365 can configure email signatures in the Office 365 admin portal's mail flow settings. When defining the disclaimer text in a rule, you must paste in HTML code to deploy a full HTML signature. Simple mail rules can be created in the admin portal to add plain text disclaimers at the bottom of emails in bulk. However, if you want to include a full HTML Office 365 signature with your email, you will only have a few options. Let's take a look at the limitations of the native method of adding email signatures.
Signatures cannot be attached directly to replies/forwards.
Logos, images and promotional banners cannot be directly embedded in the signature. Instead they are inserted as attachments.
Email signatures will not be applied when sending emails from mobile devices or Mac computers.
Email signatures cannot be scheduled on a time or date basis.
HTML expertise is required, or you should know someone who is an expert.
Email signatures are not visible in the Sent Items folders of users.
There is no way to preview the signature disclaimer before sending it.
Managing signatures for the entire organization is time-consuming and inconvenient.
There is no support for designing, managing, or centralizing signatures.
There are no predefined and customized signature templates to choose from.
No provision to test email signatures before they are rolled out to all users.
No option to add social media icons, one-click surveys or analytics.
As a result, you'll need to either write lengthy PowerShell scripts, which is of course time-consuming, or use a third-party solution like Sigsync email signature manager for Office 365 which makes the entire process simple and straight-forward.
Sigsync, the best Office 365 email signature tool to overcome the aforementioned challenges
Sigsync is a low-cost Office 365 email signature tool to add professional, centralized, company-wide and cloud based email signatures. It is device independent and can be accessed from anywhere without any complicated installations or user permissions. The following are some of Sigsync's notable features.
Centrally managed email signature for Office 365: Sigsync is an email signature service that can be managed centrally from a single dashboard. An administrator can access the dashboard with just an email address and password, requiring no other user permissions or configurations.
Company-wide email signatures: Sigsync is a company-wide email signature, which means that the signature and disclaimers can be easily rolled out to all users in the organization without having to update it individually for each user. This ensures consistency in design and branding, as well as legal compliance.
Cloud based email signature: Sigsync is a web-based service that users can access from any device and from any location. Furthermore, it is highly portable because it supports all email clients and does not require complex installations. Users are no longer restricted to a single PC or device. You can use Sigsync to ensure that all of your emails have signatures, whether you work from home, are on vacation, or are using a remote device.
Advantages and beneficial features of Sigsync email signatures
Sigsync allows you to add tenant-specific administrators in addition to global administrators.
Configuration and setup requires very little technical expertise.
You can start editing HTML code by directly importing it into the generator.
It provides category-wise customized signature templates for all requirements and occasions.
Signature rules can be used to target various audiences and campaigns.
You can force all signatures to be in the HTML format.
A scheduling feature allows you to add time-based banners and email signatures.
Signatures can be added and changed under the recent forwards and replies.
One-click surveys and analytics for obtaining customer feedback, ratings, and effective marketing.
Automatic retrieval of Azure AD values and support for social media integration.
Signatures and disclaimers in the Sent Items are automatically updated to ensure legal compliance.
Resellers can add and manage customers or clients from the dashboard.
Highly secure, reliable, and ISO certified service that adheres to Microsoft's guidelines.
It supports three modes of adding signatures i.e server, client and mixed mode of signatures.
How to set up Office 365 email signatures with Sigsync?
Setting up email signatures with Sigsync is pretty quick and easy.
Step 1: Sign in with your Office 365 account or create a new Sigsync account if you don't already have one.
Step 2: Add a tenant to your account and select a signature mode (server, client, mixed mode configuration)
Step 3: Start creating signatures from the signature generator.
Step 4: When you're finished, configure the connectors if you have chosen server or mixed mode. That's it!
Step 5: You can create a professional looking signature for different requirements by adjusting the settings under Preferences or configure the Rules to determine when and how signatures should be added to your emails.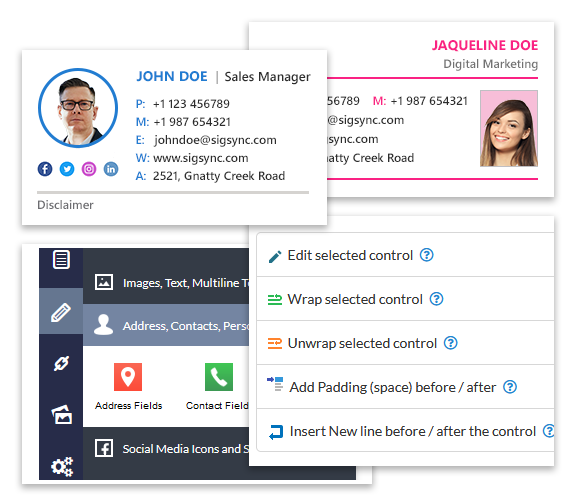 Sigsync:  A secure, Microsoft approved, cost effective email signature solution 
Sigsync is a secure, web-based email signature solution that allows you to manage email signatures for Office 365 and Exchange users from a single location. Deliver consistent brand-compliant email signatures across the organization, conduct a quick survey for your customers and collect their feedback directly using the signature. A quick survey will pique users' interest, and the results can be sent directly to you.
Sigsync is a market leader due to its low-cost solution, which offers up to 90% discounts on its subscription. It provides friendly customer service 24/7 and a free on-demand live demo if you would like to know more about the offers and product features.
Conclusion
Email signatures serve as a digital reflection of your professional profile and can also aid in marketing and brand promotion. They are also cost-effective tools in comparison to expensive marketing advertisements, and help with legal compliance by including appropriate disclaimers. However, the native Outlook method of adding signatures has many limitations and is unsuitable for professional email signatures in an organization. Sigsync is a centrally managed, web-based, and company-wide Email signature manager for Office 365 that is best suited for both small and organizations. It provides you a variety of user-friendly and requirement-specific features that cover all your needs making it an all-in-one email signature solution.