Microsoft Office 365 is mature and one of the best and secure email platforms in the world. Most businesses have been migrating to this for a long time. Companies merge, acquire, or divest business units that were established independently. As a result, there are an increasing number of Office 365 to Office 365 migration projects. In this article, we will look at some of the main reasons why companies migrate to Office 365, common Office 365 migration challenges, and how EdbMails, an Office 365 migration tool, can help you overcome the challenges and perform migration easily.
What are the reasons for Office 365 migration?
For example, suppose a company that uses Office 365 as its email platform acquires another company that also uses Office 365 as its email platform. They now want to consolidate all IT systems into a single domain. This necessitates the transfer of users, data, and domains into their tenant.
Consider another instance, If an organisation must comply with data localization rules, it may be forced to maintain multiple Office 365 tenants in different locations. This compels them to migrate some users to the distinct localized tenant.
Another use-case is as follows; organizations that do not want to backup their data on-premises can use tenant-to-tenant migration to backup their email in the Office 365 cloud service. Assume that a company has two subscriptions to Office 365 accounts. It can migrate data from one Office 365 account to another, and this migrated data serves as a backup copy in the cloud in the event that something goes missing in the first account. An additional basic Office 365 account licence can serve as a better cloud backup than a costly on-premise hard-disk storage device.
What are the features of Office 365 that make migration so attractive?
Because Office 365 is a cloud-based service, users can access it from any location or device.
Even when working from home or on vacation, users can respond to important emails and share documents and files on-the-fly.
Office 365 cloud storage is available 24 hours a day, seven days a week, and all the data is safe in the cloud.
Organizations that use Office 365 are not required to perform regular server maintenance or to be bogged down by time-consuming updates.
Up-to-date data security is always ensured by the most recent updates and security patches.
Critical data is safeguarded against theft, malware attacks, ransomware threats, natural disasters, and fire mishaps.
Office 365 supports collaboration apps such as SharePoint, Teams, OneDrive in addition to the standard mailbox.
Office 365 is highly secure, robust and carries a brand name along with it.
Challenges during Office 365 migration.
Migrating to Office 365 entails a number of business objectives, risks, and careful planning.
They pose a challenge to the IT team or administrators.
Manual methods are not suitable for large-scale migrations, and downtime during the migration process cannot be avoided.
Consistency of the data and user emails cannot be ensured.
Financial pressure on the IT team to complete the migration with limited resources, time and money.
Difficulties in migrating Public folders and Shared mailboxes.
Data loss and network issues are also difficulties encountered with the native methods. If a migration process is interrupted in the middle, there is no way to resume it back safely.
EdbMails, the best Office 365 migration tool to overcome the aforementioned challenges
EdbMails is a low-cost, highly secure Office 365 migration tool that supports tenant-to-tenant migration as well as migration from Office 365 to Hosted Exchange, Public folder, Shared mailbox, and Archive mailbox scenarios. The following are some of EdbMails' notable features.
Scalable and high performance: EdbMails has no size restrictions when migrating a single folder or an entire tenant. Its built-in multi-threading design makes EdbMails to migrate 50% faster than other migration tools. Furthermore, the data that is migrated to the target is a replica of the data that is present in the source, ensuring data consistency.
Simple, secure software: EdbMails is simple and easy to use software and you do not need to be technically savvy to perform the migration. It ensures complete security throughout the process by securely encrypting the entered credentials and only using them to accomplish the migration goal.
Zero downtime: EdbMails Software guarantees zero downtime. You can continue their work-flow even during the migration as the software doesn't put any limitation to the mailboxes or to access the server.
Advantages and beneficial features of EdbMails Migration tool
EdbMails performs end-to-end Office 365 migration without intermediate or double migration hops.
The tool automatically sets impersonation rights for your migration.
You can monitor the Office 365 migration at any time by viewing the status of the migration process.
With EdbMails Incremental migration feature, you can avoid the duplication of data on the target by migrating only the newly arrived emails or data that has not been migrated to the target server.
By applying the include / exclude option, users can migrate only selected folders and items.
EdbMails ensures a 100% safe and secure migration process throughout.
Guarantees zero downtime with complete access to the server during the entire migration process.
You can automatically create mailboxes on the target Office 365 server and assign licenses using the tool.
EdbMails can easily handle different languages and migrate non-English Unicode characters present in the mail.
How to perform Office 365 migration using EdbMails Office 365 migration software?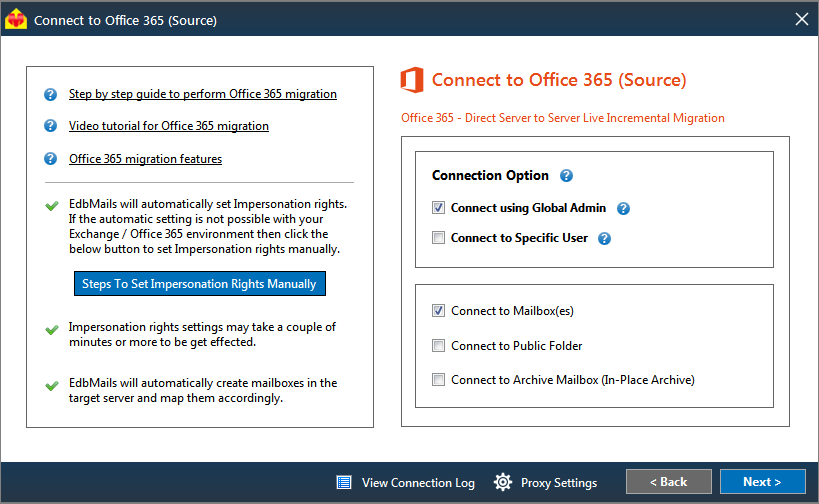 First, download the tool from the download page https://www.edbmails.com/pages/download.html
The software installation procedure is straightforward and quick.
Step 1: Log in to your source Office 365 after completing the on-screen installation steps.
Step 2: Choose which mailboxes or data to migrate to another account.
Step 3: Sign in to your target Office 365 or Exchange account.
Step 4: Map the respective mailboxes and start the migration.
EdbMails software provides fast and reliable Office 356 migration while also ensuring security and cost-effectiveness.
EdbMails is the best choice for Office 365 migration needs. The software solution quickly migrates data while maintaining privacy, security, and cost effectiveness. It is a simple tool for migrating data faster than manual methods, with zero downtime guaranteed and, most importantly, no compromise in the data quality. It provides some of the best discounts of up to 75% off, making it a highly affordable tool. To learn more about the product's features, you can contact the excellent and user-friendly customer support, which is available 24/7 or you can also request a free on-demand live-demo.
Conclusion
Office 365 is one of the most effective business platforms available. It has attracted a lot of attention due to its customized pricing plans, strong security, and collaboration features. Organizations migrate to Office 365 for a variety of reasons as discussed above. Manual migration methods for Office 365, are not only difficult but also do not ensure data consistency. Furthermore, enterprises are hampered by downtime and other issues, prompting them to seek a suitable migration alternative. EdbMails Office 365 migration software is a cost effective and the best tool for handling large mailboxes and a wide range of migration scenarios. You no longer need to look for other options since EdbMails guarantees security and reliability with no downtime making it a one-stop shop.